Update: Samsung has just told TechRadar that there will be two Unpacked events for the launch of… whatever phone it is, happening in both London and New York as full launches, not satellites of one or the other.
Samsung's not announcing the Galaxy S8 at Mobile World Congress 2017, but it is showing a teaser, which reveals that the actual announcement date will be March 29.
OK, so technically the Samsung Galaxy S8 isn't named in the teaser, but it can hardly be anything else. Sources already revealed that Samsung would be showing off a video teaser, and given the implication in the video that whatever handset it is will completely redefine what makes a phone, it could hardly be anything else.
Plus that date lines up with rumors. So yeah, March 29 is the date to mark. Invites for the event have also been sent out, revealing that it will take place in New York and London.
All screen, all the time
Leaked ahead of time by @Faryaab on Twitter, the teaser shows little else sadly, with no picture of the S8 and no real information on what it will offer. Although near the end there is the outline of what might be the phone, showing an all-screen design, with no buttons on the front and just tiny bezels above and below the display.
The bezels curve too, suggesting the screen might be curved, all of which has been heavily rumored. It's possible then that Samsung is simply referring to the screen as what makes the Galaxy S8 stand out, given that all the pictures in the teaser of other phones show ones with large bezels and home buttons.
With March 29 just a month away we'll know for sure soon and in the meantime we'll keep you updated with all the Samsung Galaxy S8 and Samsung Galaxy S8 Plus news and rumors as they emerge.
MWC (Mobile World Congress) is the world's largest exhibition for the mobile industry, stuffed full of the newest phones, tablets, wearables and more. TechRadar is reporting live from Barcelona all week to bring you the very latest from the show floor. Head to our dedicated MWC 2017 hub to see all the new releases, along with TechRadar's world-class analysis and buying advice about your next phone.
This is what the Samsung Galaxy S8 looks like
The most official looking Galaxy S8 leak to date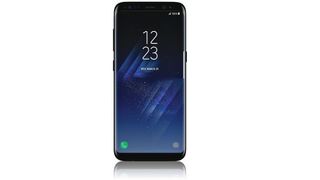 Superlative smartphone leaker Evan Blass seems to have come through with the goods again, this time revealing what appears to be an official promotional image of the upcoming Samsung Galaxy S8 – and almost a full month ahead of its anticipated official unveiling.
There's little in the way of further details apart from the single image, which we've embedded below, although eagle-eyed observers may note that the date on the handset's is 29 March, which is when Samsung's announcement event is set to take place.
It also supports rumors that Samsung will finally ditch its physical home key – a mainstay on the entire Galaxy S range – in favor of on-screen navigation icons and a rear mounted fingerprint scanner.
I think this is what you've been waiting for. pic.twitter.com/FvYfsLOy0R

— Evan Blass (@evleaks) March 1, 2017
A bit of a stretch
The display also looks taller than the Galaxy S7's, further fueling reports that Samsung will opt for a 18:9 aspect ratio to match the new LG G6 and rumored iPhone 8.
There's also a whole bunch of sensors/cameras above the display, which could suggest the Galaxy S8 will also come with retina scanning technology to allow you to unlock the phone with your eyes.
Of course, there've already been plenty of other hints about the features and specs of Samsung's next flagship, so check out our comprehensive Galaxy S8 rumors and release date guide for the full rundown.
Comments
comments